A Central Florida swimming pool is a big purchase, it isn't something you do very often, you want to be sure you are getting a good deal.
So, how much is your new swimming pool going to cost?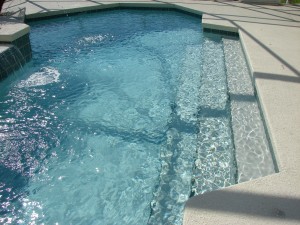 Whether you've had a pool built before or it is your first time, the team at Dreamscapes Pools and Spas believes in price transparency. Our award winning design consultants work directly with you in a relaxed, no pressure environment to create your perfect backyard getaway.
We've developed a sales process built around education, listening to our clients, basing your project on what you want, showing you options, taking into account your wish list and budget.
A gunite swimming pool is so much more than just a hole in the ground.
The price comes with quite a few options. Are you looking for that whole backyard experience or just want somewhere you can cool down and have some fun? Full of amenities and gadgets or something simple?
Sun shelf or tanning ledge
Water features, fountains, spouts, waterfalls, sheer falls.
Pool pump with variable speeds or single speed.
LED lighting colors, fire features
Chlorine or salt water pool system
Step out, beach entry, or safety rails
Grotto cave, infinity edge
Pool finish, pebble, tile, quartz
Waterline tiles, natural stone, ceramic, glass
Surface of the deck, composite, stamped concrete
Spa, pool cover, security fencing
The list is just about endless, but can add to the price. Make sure you know the base price of the pool without all the extras. Then you can add on any amenities you want according to your budget.
Other factors to take into account that will affect the overall price of the pool
The size of the pool, plumbing, and equipment
Decking, expansive designs and materials can significantly add to the price
Location and terrain of the property
Options and amenities, custom designs and wireless features
Local requirements, permits, building codes
other costs, landscaping and fencing
The size of the pool, plumbing, and equipment
Dreamscapes Pools and Spas can help you every step of the way to achieve the backyard of your dreams.
What sets Dreamscapes Pools and Spas apart from the rest is our commitment to the highest quality products, construction, skilled craftsmanship and the best warranties, 'Award Winning' design team, over 30 years of combined experience and great prices!
We work together with our clients to design an outdoor living space that reflects their own personal style, taste, and budget.
Contact Dreamscapes Pools and Spas for a free quote and start enjoying your backyard oasis!