Kids are back in school, which means homework, reading, test, and all the stress that comes every day life.
How Can a New Swimming Pool Help?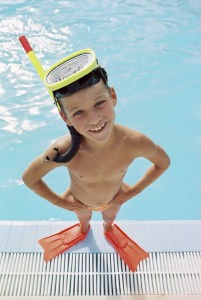 Our kids are spending less time outside playing outside. Many studies show children who play outside are happier, smarter and more attentive. Having your very own backyard swimming pool encourages kids to do their homework and studying outside. When they're done, they can jump in the pool and enjoy.
"Healthy, physically active kids also are more likely to be academically motivated, alert, and successful. And physical competence builds self-esteem at every age." Kids Health.
When school starts life gets busy and very demanding. It is important for everyone, kids and adults, to have a place to relax and unwind. A backyard oasis is the perfect environment for after school fun and weekend stay cations.
Sitting in school all day can be tough. When they come home they need to de-stress and use up all that pent up energy.
It is also a great way to build new relationships and enjoy family time. Friends are a big part of a successful school year. A new class can be difficult. Inviting a few friends over or throwing a pool party, is a great way to ease the tension and build new relationships."Physical activity can decrease the symptoms of anxiety up to 50 percent," says former school psychologist Sherianna Boyle.
Let's not forget about family time, it is easy to get caught up in life. It is important to take time out for family, the pool is a great way to make lasting memories.
It all starts with your very own backyard swimming pool. It is a big investment, ensuring you put your trust in a reputable company.
Let one of Dreamscapes Pools and Spas award winning design consultants work directly with you in a relaxed, no pressure environment to create your perfect backyard getaway.