As the summer starts to heat up, take your workout to your very own backyard pool. Swimming and exercising in the pool is one of the best high intensity and low impact cardio workout. It is also a great way to keep cool while staying in shape!
So Much More Than Swimming Laps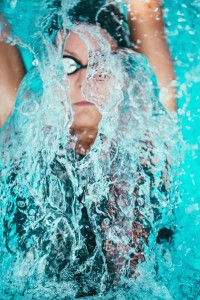 "So how exactly does one workout in the water without the monotonous task of swimming laps in a pool? Simply take some of your standard gym moves to the water. Not only does the water add unexpected elements to your workout, such as forcing you to stabilize your body against the motion of the water, but it also provides you with a great opportunity to take your workout outside," according to Sports Illustrated.
"For example: Do lunges or squat jumps by pushing off the bottom of the pool and working against the water's resistance, or do triceps dips and pushups on the pool wall, using the buoyancy of the water to assist you. (Bonus: You'll be able to complete more reps!) Set a goal to complete a certain number of rounds or set a time restriction, just like you would in the gym—and give yourself bonus points if you add weights."
Now is the Time for Your Very Own Backyard Swimming Pool
Exercising in the water is easier on the joints, it can also lead to improved health and even weight loss. Enjoy working out in the comfort of your own home, whenever you want. Swimming is also beneficial and easier for those who have existing injuries.
A backyard oasis is a calming and relaxing mental break from our hectic lives. Studies show combating stress with water therapy can help alleviate stress hormone levels, improves sleep, assist in losing weight, relieve depression, releases endorphins, reduce chronic pain and clear your mind.
A custom built swimming pool means endless hours of fun and added value to your home. Whether it is a relaxing oasis, an amazing family friendly recreation area or somewhere in between, Dreamscapes Pools and Spas can make your design inspiration reality. Contact us for a free quote today.