Why build a cookie cutter swimming pool when you can build the extreme swimming pool of your dreams. Let your piece of paradise test the boundaries, while reflecting your personal lifestyle. With customized free form designs, exotic finishes, and the newest innovative features, your tropical oasis can be a reality.
Swimming pool finish that outshines!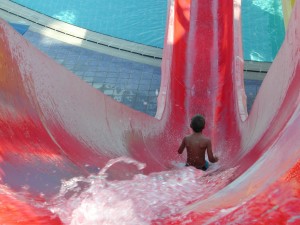 The interior of your new swimming pool is typically the largest part and the finish you use will deliver a huge impact. Todays high performance materials come in a large variety of amazing colors and creative textures. Setting the stage for your personal slice of heaven., with deep hues of blue, black, green, and cool Caribbean tones with smooth pebble surfaces or sleek modern mosaic tiles. Creating a true work of art.
The edge of paradise
It's easy to play up a spectacular landscape or view with a seamless vanishing or infinity edge. No more stairs, you can simply walk into your new swimming pool with a beach entry. incorporate seating inside the pool or a sun shelf for some well deserved rest and relaxation.
The extreme design
The perfect escape, a lush lagoon, cascading waterfalls, a floating fire bowls, hammock for two, a swim up bar, overflow spa, the list goes on and on.  Let your adventurous side show with a rock climbing wall, slide, lazy river, and so much more. Don't forget about the lighting, State of the art fiber optic and LED lighting will amplify the experience. Ranging from soothing colors to dancing to the beat of the music.
Don't let your new swimming pool be a mirage. Let Dreamscapes Pools and Spas build the tropical oasis of your dreams.
What sets Dreamscapes Pools and Spas apart from the rest is our commitment to the highest quality products, construction, skilled craftsmanship and the best warranties, 'Award Winning' design team, over 30 years of combined experience and great prices!
Contact Dreamscapes Pools and Spas for a quote today.