After months or maybe even years of thinking it over, you've decided to take the plunge with a new backyard swimming pool. There is nothing worse than regretting a decision or wished you would have done something different after you have invested all that time and money.
Avoid Unnecessary Mistakes and Tons of Stress by Thinking Long Term
An in-ground gunite swimming pool will be around for several decades, even long after you sell the house. The size, type, amenities, and finishes, will all affect the final cost. So, think beyond your current circumstances. For instance, the initial cost of a salt water pool may be a little higher than a chlorine, but the health benefits and resale value may be worth it.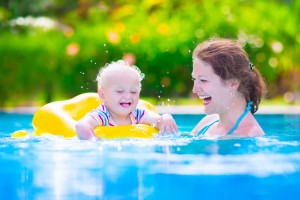 Don't Choose a Pool Just on How it Looks
Think about who will be using the swimming pool and why. Do you want the resort type feel for relaxation, will it be a family pool, used for exercise, or entertaining guests? Make sure you share your needs and purpose with your pool contractor, this will help with the design. It will also help guide you through the choice of lighting, spa components, finishes, and landscape features.
No Matter Who Will Be Using the Swimming Pool, Don't Skimp on Safety!
Make sure you make safety a priority when building a swimming pool. Ensure it adheres to all the state and local regulations regarding barriers and fencing. Today's technology allows for enhanced safety, such as, alarms, deck surfaces, pool shut off's and automatic covers. The design team at Dreamscapes Pools and Spas can show you which design features fit your needs.
Use a Reputable Pool Contractor
When you are looking for a swimming pool contractor, make sure they are licensed and insured. As we'll have references and pictures of past projects. The last thing you want is some fly by night company, who does half the job and takes off with your money or does poor quality workmanship.
Make Sure You Understand the Warranties
There are many components that go into a swimming pool. If something does go wrong, make sure you understand what is covered in the warranties, how you report a problem, and the repair process.
With the right pool contractor, the process of purchasing a swimming pool should be fun and exciting. They will go over everything and help you avoid any mistakes. Before you know, your dream of a luxury backyard oasis will be a reality!
Contact Dreamscapes Pools and Spas for more information.