COVID-19 has families in Central Florida staying home more, it's become the new normal and it look likes it's here to stay. In fact, the pandemic has made people realize they don't have to travel to vacation destinations when they can create that tropical resort right in their very own backyard. Which is why swimming pools are the newest trend. Making cherished memories, enjoying family time together, and adding value to their home. 
While taking on a swimming pool project may not seem like something you should do right now, it's actually a perfect time. Loans are at a historically low rates. Dreamscapes Pools and Spas offer virtual appointments to discuss the backyard oasis of your dreams.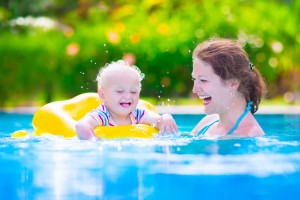 A private swimming pool in your very own backyard means you won't have to worry about unhealthy viruses or expensive resorts. Instead of your kids spending hours staring at a computer screen and being bored, fun in a swimming pool is the perfect answer. 
Games in the pool, the smell of hamburgers and hot dogs grilling, and spending quality time with family and friends. Relax in your spa after a hard day at work or school, get some exercise, and create amazing memories.
Kids love playing in the pool. It gets them outside and the exercise recommended by physicians for a healthy mind and body.
"Swimming is an all-body exercise. A physically demanding combination of cardio and power, it works your heart, and the muscles in your legs, arms, torso and hips. The constant resistance from the water forces your muscles to simultaneously contract and stretch, creating flexible and resilient muscle fibers." Living Strong.
A swimming pool creates an amazing environment for entertaining. The look and sound of the water have an ambiance that can't be matched.
If you've ever wanted your very own backyard pool, now is the time. Whether it's new swimming pool construction, remodeling, renovations, or repairs, Dreamscapes Pools and Spas is a leader in the industry. We are proud to offer quality construction at an affordable price. We have built our reputation on experience, quality and unparalleled customer service.
Contact Dreamscapes Pools and Spas for more information.