Summer is just around the corner, have you made plans for a vacation? During these uncertain times it's almost impossible to know where we will be in the pandemic. Which is why so many people are turning their backyard into an oasis for the perfect staycation. 
It All Starts With The Swimming Pool
It's time to kick back and relax, and that starts with a backyard swimming pool. Enjoy relaxing poolside, bonding with the kids, even a fun way to get some exercise. 
How To Create The Perfect Staycation 
Pick A Theme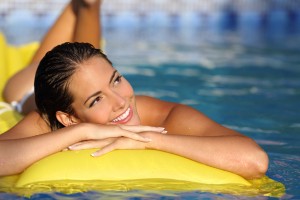 When you imagine the perfect vacation, what do you picture? An island paradise, a sun kissed beach, or a world class resort? What ever your vision takes you, bring that atmosphere to your backyard. This transformation can include lighting, music, decor, island inspired landscaping, hammocks, and Tiki torches. Just don't forget the sunscreen and drink plenty of water.
Check back with us next week for more ways to create the perfect staycation: Connecting with nature, unplug from technology, prioritize relaxation, treat yourself, valuable bonding time with family, and have fun!
Get Started Today
Let one of Dreamscapes Pools and Spas award winning design consultants work directly with you in a relaxed, no pressure environment to create your perfect backyard getaway. We'll work together to design an outdoor living space that reflects your own personal style, taste, and budget.
Staycation In Style
Now is the time to make those summer vacation plans by transforming your backyard into the perfect dream vacation!
Dreamscapes Pools and Spas is Central Florida's premier pool builder, from Tampa to Brevard County, Palm Coast, New Smyrna, and Orlando. We have built our reputation on experience, quality, and unparalleled customer service.
Contact Dreamscapes Pools and Spas for a quote, we are sure our pool construction and design will exceed your expectations.