It is finally time to design your new Central Florida swimming pool. It can easily become overwhelming, with all the possibilities. The secret to getting the best design and everything you want, while staying within budget, is to partner with a the right swimming pool builder. Dreamscapes Pools and Spas makes it easy to get the backyard oasis of your dreams!
So, Where Do You Start?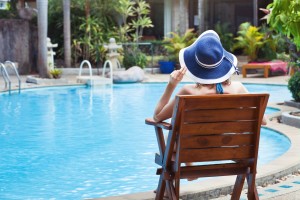 Look at the space you have
Understanding how much space is available for your new swimming pool will be using is essential. This can save some big issues down the road. Even if it is smaller than you had thought, don't worry, you can still have that amazing pool you've always wanted. 
Then there is the budget 
The budget should include the pool, all the equipment, deck, hardscaping, and even the landscape. The latest 3D technology at Dreamscapes Pools and Spas makes it easy to see your magical oasis before construction ever begins. 
What will you use the swimming pool for?
Your new swimming pool should fit your lifestyle. Recreation, relaxation, or exercise? Will younger children be learning to swim.  A hot tub for therapy or a lap pool for fitness is beneficial. Entertaining and aesthetics, beautiful lighting and a fountain can create quite the ambiance.
You've finally decided to build your dream pool, Dreamscapes Pools and Spas is a great place to start!
Designing the perfect swimming pool for your Central Florida backyard is a delicate balance of art and function. With so many options to choose from, function to ambiance and entertainment, it can be overwhelming. The best place to start is with an experienced swimming pool design team at Dreamscapes Pools and Spas. Our 3D computer design system can help you envision your new pool before construction begins.