Your very own backyard swimming pool is an amazing place to be. With the addition of a luxury resort features and you and your family will never want to leave!
Exotic fire features, perimeter overflow, caves, grottos, viewing panels, and laminar jets.
Perimeter Overflow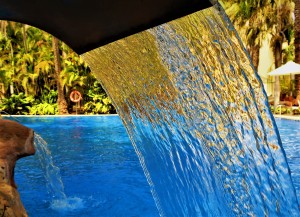 The ultimate swimming pool feature, the surface of the water looks perfectly contained without the appearance of any walls, and the water looks like a flat sheet of glass. Taking the infinity edge pool which only has one overflow edge, to the next level, with all four sides overflowing.
Laminar Jets
Give your pool the high end resort feel with Laminar Jets. Whether they are clear or colored, the soothing sounds of arched water create the ultimate dazzling light show for your backyard. An impressive combination, you may think you're on the vacation of a lifetime!
Grottos and Caves
Adventure and mystery for kids and adults without even leaving your home. Just imagine being surrounded by colored lights, the coolness of a cave, and a relaxing intimate area. Entertain with a swim up bar and an extravagant hot tub, you just limited by your imagination.
Fire Feature
Captivating fire features are the hottest trends in swimming pool designs. A glowing fire pit or bowl will give your pool that wow factor that will keep your family and friends talking. A mesmerizing flame is not only relaxing, it creates the ultimate exotic gathering area. The striking visual effects adds drama, perfect for those cool evenings. Don't worry, it can be all controlled by a push of a button on a remote.
Dreamscapes Pools and Spas is proud to be a leading pool service in Central Florida. Our award winning design consultants works closely with each of our clients to ensure their dream oasis.The construction of our pools, spas, and outdoor kitchens are renowned throughout the industry for our exceptional quality, amazing architectural details, and beautiful decor.
Contact Dreamscapes Pools and Spas, we would love to put our expertise into your new pool construction. We are sure our design will exceed your expectations.