Winter is the perfect time to start planning your new backyard swimming pool. The process can be overwhelming, but don't worry, the design experts at Dreamscapes Pools and Spas take pride in creating the perfect backyard oasis.
When it comes to the installation of a swimming pool, proper planning important. I'm sure you have a lot of thoughts about what you want your pool to look like. To ensure you get exactly what you want, take into consideration these tips.
Location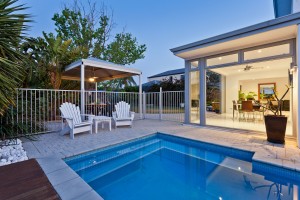 You want your pool to look great, add value, not to close to big trees, and close to a water and electricity supply. 
Shape and Size 
What will you be using your swimming pool for will help determine the what size and shape will be best. Doing laps, family time, or cooling off on hot summer days. 
Finishing Touches 
The finishes you use will make your pool stand out, borders, decking, coping. Glass and ceramic tile has a more elegant look, while concrete and stone have an organic feel. There are many options on the market. The 3D design system is the latest swimming pool technology. It will allow you to see exactly what your pool will look like before construction ever begins. 
Choosing a Swimming Pool Contractor
The last thing you want is to get scammed, so do your homework when choosing someone to build your backyard paradise. Unfortunately, there are some unscrupulous businesses in the community. It can't be stressed enough, make sure the contractor is experienced! Look at their past projects, make sure they have a reputable website with a gallery of their work, and has been accredited by the BBB.
Dreamscapes Pools and Spas 
As one of Central Florida's premier pool builders, Dreamscapes Pools and Spas have built our reputation on experience, quality, and unparalleled customer service. Our experienced design team has the latest 3D computer technology enabling you to vision what your new swimming pool will look like. We have an A+ accreditation with the BBB, and some great reviews.
There is a lot that goes into the planning a backyard oasis, the Dreamscapes Pools Construction Team is dedicated to making your dream pool a reality. Our skilled craftsmen use only high quality, long lasting, and efficient materials to construct your swimming pool.
Contact Orlando Dreamscapes Pools and Spas for a Free Quote