The swimming pool industry has been affected by the pandemic, like many other construction sectors. But you shouldn't let that deter you from having a the dream of a new backyard swimming pool come true. 
The fact is, here in Central Florida, swimming pools are more popular than ever! It is important to work with a reputable builder with a good reputation in the community. This way you can rest assured everything will go smoothly and you get exactly what you want. 
Why Invest in a swimming pool?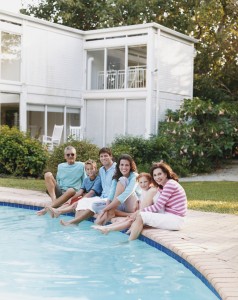 Today, a swimming pool is almost expected when shopping for a home. It improves both the value and aesthetics of a property. Not to mention the quality of life for you and your family. 
Imagine after a hard day of work and school, going into your backyard to unwind next to the swimming pool, taking a dip in the refreshing water, watching the kids play, and joining in for some great bonding time. 
The new normal has been a difficult journey for many of us. Taking a toll on our mental, emotional, and physical health. Swimming is a great way to relieve that stress, bounce back, and keep active, without worrying about social distancing or even leaving home. 
On top of all this, a backyard swimming pool is a great financial investment, it reflects a high resale value. A swimming pool is very attractive to prospective home buyers. 
What to expect when having a swimming pool built 
If 2020 has shown us anything, is the value of spending more family time together at home. The addition of a backyard pool gives everyone a reason to relax, enjoy, and get back to some type of normal.
Why Choose Dreamscapes Pools and Spas
The professional design team at Dreamscapes Pools and Spas work with you to carefully design the backyard vision of your dreams. With amazing features and design elements such as, infinity edges, beach entries, custom rock formations, the options are endless, creating a backyard oasis. Our latest 3D software helps create the swimming pool and spa of your dreams at a price you can afford.
What sets Dreamscapes Pools and Spas apart from the rest is our commitment to the highest quality products, construction, skilled craftsmanship and the best warranties, 'Award Winning' design team, over 30 years of combined experience and great prices!
Contact Dreamscapes Pools and Spas for more information on your backyard oasis and a free quote!