You've always wanted a beautiful backyard swimming pool, but you are concerned about the safety with the children and pets. There are several safety practices to keep in mind during pool construction.
Taking the necessary precautions will help keep your family safe.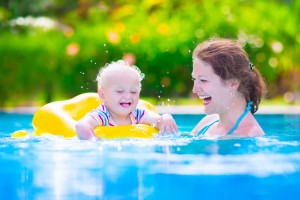 The best line of defense is a barrier or fence that surrounds the pool. It should have self latching gates, above the reach of children, non-climbable, and at least four feet tall. The barrier should also be free from footholds or handholds, so children and pets won't be able to climb over it. Another effective swimming pool barrier is a safety cover. The experienced team at Dreamscapes Pools and Spas can help determine which swimming pool fencing and/or pool cover is right for your situation.
When it comes to pool safety, technology has come along way. An effective second layer of protection is a pool alarm. They can be installed on the gates to the pool, as well as doors and windows that lead to the patio. There are also wearable alarms for children and pets. If submerged an alarm will sound in the house.
"To protect their children, parents need to think about layers of protection," according to Jeffrey Weiss, author of the updated guidance on water safety for the American Academy of Pediatrics. "Swimming lessons can be an important part of the overall protection, which should include pool barriers and constant, capable supervision."
It is also important to have all chemicals related to the pool in a childproof cabinet and follow all the pool safety precautions.
The surface texture of the swimming pool's perimeter should be an integral part of planning to prevent falls. There are many ways to increase the traction and add to the decorative appearance. Such as the addition of clear plastic grit into the sealer, textured overlay or an exposed aggregate finish.Multiple ladders around the pool will ensure easy access for swimmers who get tired.
Our goal at Dreamscapes Pools and Spas, is to build a stunning swimming pool and a breathtaking outdoor living area, that is also safe for the whole family.
For more information about new swimming pool and spa construction, contact Dreamscapes Pools and Spas today.