If you are considering a swimming pool for your Central Florida backyard, it is important to understand the basic construction phases.
Phase 1 Excavation of a Concrete Pool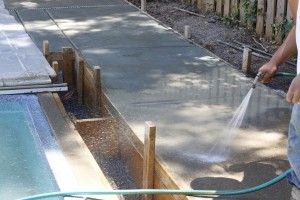 Depending on the size of the pool, type of soil and equipment, excavation can take a couple of hours or a few days. The dirt is either removed or it can be used on site.
Phase 2 Placement of the Steal
The addition of steal increases the pool's ability to naturally flex and bend with the environment. It can take one to two days to encase rebar or steel bars in the concrete shell, creating a web of strength.
Phase 3 Installing the Plumbing
Before the concrete is poured pipes and plumbing needed to circulate the water in the pool are installed.
Phase 4 Pouring the Concrete
This is when the pool really starts to take shape. It should take one to two days. Concrete is shot into place with specialized equipment.
Phase 5 Curing Time
The curing process is important. The cement molecules become hydrated, making them stronger. This process takes about 28 days.
Phase 6 Waterproofing
Whether it is sprayed or rolled on, waterproofing material seals the shell, smooth rough areas, and prevents water from seeping through the concrete.
Phase 7 Tile Border
The top six inches of the pool are porous and can stain easily at the waterline. Perimeter tile or stone border makes a great transition from the patio to the pool.
There are many factors that go into building the backyard oasis of your dreams. What sets Dreamscapes Pools and Spas apart from the rest is our commitment to the highest quality products, construction, skilled craftsmanship and the best warranties, 'Award Winning' design team, over 30 years of combined experience and great prices!
We work together with our clients to design an outdoor living space that reflects their own personal style, taste, and budget.
Contact Dreamscapes Pools and Spas for a free quote and start enjoying your backyard oasis!