Why are people with their very own backyard in-ground swimming pools so happy? Endless entertainment, relaxing tropical oasis, great exercise, and a reason for the kids to be outside. Scientific studies show these types of experiences can add happiness to your and your family.
Exercise, Improved Mental Health, and Happier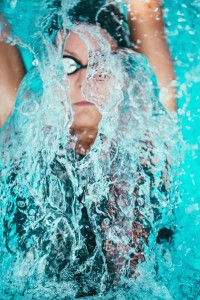 Whether you are swimming laps, playing fun games, or having a leisurely swim in the pool, you are getting a great workout. Exercise releases endorphins, which has been proven to make you in a better mood, healthier, and more relaxed.
A recent study from Mindlab International revealed, swimming regularly showed a 35% increase in positivity in just four weeks. The study went on to show the participants had a 20% increase in wellbeing in just one week, over 40% increase in the quality of sleep (those that swam 2.5 hours a week had a 60% increase in better sleep), over 51% increase in energy level and 15% increase in fitness level.
Reduce Stress and Fresh Air
Everyday stress can take a toll on everyone in the family! Your very own tropical oasis creates the ultimate opportunity to relax and unwind.
This low impact sport also had a decrease in negative emotions in the participants. Juliane Shulz, a lead researcher for the study said, "It's commonly known swimming is one the best forms of exercise to keep fit but this report has taken a look at the further benefits that a couple of swimming sessions a week can have. It's interesting to see that not only did the wellbeing of participants improve, but it happened almost immediately, which can provide some welcome relief to the stresses of everyday life."
Sometimes we get caught up in our day to day life and don't take the time to spend time outdoors. Fresh air is important for proper brain function. While sunlight provides essential vitamin D. Studies show depression can result from not enough vitamin D.
Quality Time With Family and Friends, Priceless
Today's age is full of electronics, video games, and TV. A backyard swimming pool is an easy and fun way to get the whole family outdoors and spending time together. Making the decision to build a swimming pool in your backyard means pool parties, backyard BBQ's, and quality time with family.
Contact Dreamscapes Pools and Spas and experience your own backyard oasis.