The process of designing a swimming pool can be exciting and daunting at the same time. There are countless opportunities to create your vision of a backyard paradise that you will love for decades.
It's a great time to plan that backyard swimming pool and spa you've always wanted! Improved construction techniques and new technology have made swimming pool design more luxurious, functional and enjoyable.
Consider a few tips before the construction of your new swimming pool
How will you be using your pool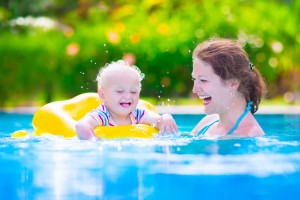 Before creating a design, decide how you are going to use your pool. A relaxing spot, exercise and swimming laps, entertaining friends and family, or a combination.
What are your must have features
Do you want a spa attached to your swimming pool for that resort feeling, maybe a water feature, LED lighting is great for entertaining at night, a slide for the kids, beach entry, fire feature or heater for the cooler months. There is definitely a lot of pool features on the market today, the dedicated team at Dreamscapes Pools and Spas can help.
Your properties logistics
Are there any restrictions or local bylaws that affect your area?  Take notice of your backyard water drainage and sunlight patterns. Will it be easily accessible to your home, the kitchen, and the bathroom.
What is your budget?
Knowing your budget will keep you on track. From the design process, features, to equipment.
Sketch out your ideas
Look in magazines and pictures of pools to get some ideas. It will help you visually what you want and communicate with the pool designer about your vision. Dreamscapes Pools and Spas award winning design team and 3D technology to show you exactly how your backyard will be transformed into your dream
Don't let another year go by without your very own backyard swimming pool! Whether you are dreaming of a simple or elaborate design, be sure and contact Dreamscapes Pools and Spas for a quality backyard oasis at an affordable price.