Now is the time to get started on the construction of you're own backyard swimming pool. It will be ready by spring and you can enjoy summer relaxing and cooling down in the water.
More than making a splash, salt water swimming pool is a trend that is here to stay.
This new technology account for over half of new gunite swimming pool installations, according to experts. While many chlorinated pool owners are diving in and converting to salt water systems.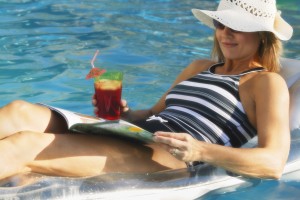 Is a salt water swimming pool right for your lifestyle
While the equipment for salt water pools may be initially a little more expensive than chlorine pools, they quickly pay for themselves and then some. Instead of adding chlorine pucks and other chemicals on a regular basis to the traditional pool, salt is just added once, it never disappears or evaporates.
It is also not very difficult to replace the chlorine equipment for the new salt water technology
Saltwater technology is also safer and easier maintenance than chlorine pools. By eliminating storing, dispensing, and handling harsh chemicals, while eliminating harmful by products.
Saltwater pools operate with a chlorine generator cell, separating water molecules into oxygen and hydrogen through electrolysis. It then combines them with sodium chloride or salt, to form chlorine or sodium hypochlorite. This is how the water is sterilized.
Chlorine pools contain chloramines as part of the disinfection process. This is what is responsible for the smell, lung irritation, and itchy eyes, associated with these pools. You will also have to keep adding chlorine and chemicals on a regular basis to keep the pool.safe and clean.
Because saltwater pools naturally produce chlorine from salt, you won't need to add anything.  After the chlorine sanitizes the pool, it converts back into salt and the process starts all over again.
Swimming pool construction
What sets Dreamscapes Pools and Spas apart from the rest is our commitment to the highest quality products, construction, skilled craftsmanship and the best warranties, 'Award Winning' design team, with over 30 years of combined experience and great prices!
We work closely with each of our clients to ensure you get the backyard pool of your dreams. Our pool construction is known throughout the industry for our exceptional quality, amazing architectural details, and beautiful decor.