A swimming pool in Central Florida means year round entertainment, day or night. As you plan and design your new swimming pool there are a number of options to consider. At Dreamscapes Pools and Spas we have a 3D technology to ensure your new backyard oasis meets all your desires, needs, and everyone can enjoy the benefits.
When purchasing a swimming pool, take into account how family members will be using the pool. Exercise, sun bathing, relaxing in the spa, entertainment and fun games for the kids. We have come a long way from the traditional cookie cutter rectangle, pools are now customized to fit the homeowner and their family.
Tile Design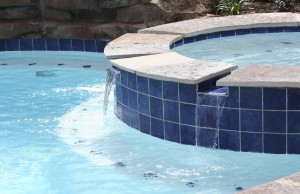 Tile design will be very popular in 2017. Mosaic tiles are aesthetically beautiful, incorporate a unique design, and are easily installed. Glass tile will also remain popular. Not only do these gems add a dramatic, elegant feel, they come in a variety of shapes, styles, and colors, they are more durable than porcelain and ceramic.
Hydrotherapy Jets
Swimming pools have many health benefits, but when combined with hydrotherapy jets, it can be better than a day at the spa in your own backyard! Revitalizing your body with pressure, temperature, and water, to reduce stress, rehabilitate injured muscles, relieve muscle tension and pain.
Water Features
Water falls, fountains, rock features, slides, bubbling features, will continue to be aesthetic masterpieces and increase the value of your home. Imagine coming home after a stressful day at work to the soothing sound of moving water.
Pool Shapes
Thanks to concrete pools, any shape pool is possible. No need to worry if you don't have a big back yard, any size pool can be constructed complete with sloped entries, waterfalls, even a swim up bar.
Does a backyard oasis with an in-ground swimming pool sound appealing to you?  Then contact Dreamscapes Pools and Spas and get started today!