Many people come to us at Dreamscapes Pools and Spas and ask us if building a swimming pool in their backyard really worth it? Ask any pool owner and they will without a doubt say YES! And here is why.
Increases Home Value 
Swimming pools have come a long way in the last decade. The materials, filters, and equipment have made them easier to install and maintain. They are even environmentally friendly. Homes with a swimming pool are much more desirable here in Central Florida and worth considerably more.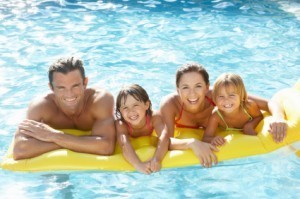 Everyone Has Fun
Whether it is swimming, cooling off on a hot day, relaxing after a hard day at work, hosting a party, or playing with the kids, everyone loves a swimming pool. The memories made, the laughter, and fun, everyone can come together in the backyard. 
More Family Time
A backyard swimming pool becomes a focal point. It gives families a chance to put down their electronic devices and spend time bonding together. Don't forget the great pool parties and BBQ's you can have with the extended family and friends. 
Great Way To Stay In Shape And Relax
Swimming pools are great for relaxation! They are known for rejuvenating and recharging the soul. According to several studies, the massaging sensation the body feels when water is moving over it, promotes tranquility.
They are also a great way to stay in shape. Whether you are swimming laps, playing fun games, or having a leisurely swim in the pool, you are getting a great workout. Exercise releases endorphins, which has been proven to make you in a better mood, healthier, and more relaxed.
A recent study from Mindlab International revealed, swimming regularly showed a 35% increase in positivity in just four weeks.
The study went on to show the participants had a 20% increase in wellbeing in just one week, over 40% increase in the quality of sleep (those that swam 2.5 hours a week had a 60% increase in better sleep), over 51% increase in energy level and 15% increase in fitness level.
Swimming Pools Aren't As Expensive As You Think
With today's technology and materials, swimming pools are not as expensive as they once were. Dreamscapes Pools and Spas makes it easy to stay in budget and create the oasis of your dreams with our 3D computer imaging.