Planning an in-ground swimming pool for your Central Florida area home is a very exciting time! There are many design elements to consider, from the shape of the pool, traditional or salt water, to the color and amenities, waterfalls and fountains, zero entry or infinity edge. One feature element that should not be overlooked is safety.
We all know just how fast a toddler can move and how impulsive they can be. Which is why those have a swimming pool built consider placing a some type of barrier or/and alarm in place. 
The Pool Safely: "Simple Steps Save Lives Campaign", by the U.S. Consumer Product Safety Commission provides advice on how to keep your pool safe. 
Barriers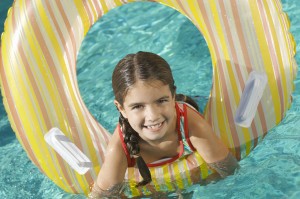 Barriers are not child proof, but they provide layers of protection for a child when there is a lapse in adult supervision. Barriers give parents additional time to find a child before the unexpected can occur.
Barriers include a fence or wall, door alarms for the house, and a power safety cover over the pool. Use the following recommendations as a guide.
Barrier Locations
Barriers should be located so as to prohibit permanent structures, equipment or similar objects from being used to climb the barriers.
Fences
A fence completely surrounding the pool is better than one with the house serving as the fourth side. Fences should be a minimum of 4 feet high, although fences 5 feet or higher are preferable.
If the home serves as one side of the barrier install door alarms on all doors leading to the pool area. Make sure the doors have self-closing and self-latching devices or locks beyond the reach of children to prevent them from opening the door and gaining access to the pool.
Pool covers add another layer of protection and there are a wide variety of styles on the market. Keep pool covers well-maintained and make sure the control devices are kept out of the reach of children.