Your new swimming pool should be a place where you retreat to after a long, stressful day, the source of fun times and favorite family memories. It should look amazing as it feels when you jump into it on a hot summer day. By making your swimming pool an extension of your home and you will be encouraged to use it all year long.
Take Everyones Needs into Consideration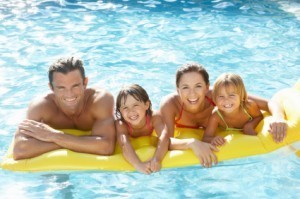 If it's relaxation you're looking for, the soothing sounds of a waterfall, ambiance lighting, and fountains, is the perfect way to end the day. If you have small children, a splash pad and a squirting dolphin, will be their new favorite spot. For teenagers a fun rock slide, jets, and of course a tanning ledge (a one foot deep ledge along the edge of the pool makes a perfect place for lounge chairs), means endless hours of fun.
Making your new swimming pool an extension of your home means turning your backyard into a luxury, fun getaway. The addition of an outdoor kitchen and spa will enhance that resort feeling. The design possibilities are endless, from a smaller swimming pool with geometric elements and streamline edges to a unique custom creation with built in caves. The professional design team at Dreamscapes Pools and Spas work closely with our clients in building a beautiful custom pool and backyard oasis that will reflect your style and taste.
What sets Dreamscapes Pools and Spas apart from the rest is our commitment to the highest quality products, construction, skilled craftsmanship and the best warranties, 'Award Winning' design team, over 30 years of combined experience and great prices!
Dreamscapes Pools Construction Team is dedicated to making your dream pool a reality. We provide the highest level of communication and attention to detail throughout every phase of your project.
Nobody will be able to resist taking a dip in a glorious pool, relaxing in a spa, or simply enjoying time lounging in a fabulous space. Pools and Spas have never looked this good!
Contact Dreamscapes Pools and Spas for a quote today.