Does it seem like everyone you know has a swimming pool? Their popularity here in Central Florida is growing every day! And why not, they are an amazing way to relax, get some exercise, and entertain guests. The benefits of having your own backyard in-ground swimming pool are numerous, here are just a few.
Swimming is the ultimate way to stay in shape, it is a total body workout. It builds core strength, easy on the joints, good for flexibility, torches calories, and it's heart healthy.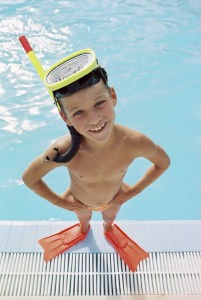 "The real beauty of aquatic exercise is that even though it burns calories at a rate similar to that of other aerobic activities, it often feels easier. This is due in part to the naturally cooling effect of water – you simply don't feel as hot and sweaty as you do on land – and the fact that water exercise tends to be enjoyable. It's easy to overlook how hard you're working when you're having a good time." Money Crashers.
Thanks to advanced technology, it is easier than ever to maintain a swimming pool. It has become less time consuming, using less chemicals and less money.
Kids love playing in the pool. It gets them outside and the exercise recommended by physicians for a healthy mind and body.
"Swimming is an all-body exercise. A physically demanding combination of cardio and power, it works your heart, and the muscles in your legs, arms, torso and hips. The constant resistance from the water forces your muscles to simultaneously contract and stretch, creating flexible and resilient muscle fibers." Living Strong.
A swimming pool creates an amazing environment for entertaining. The look and sound of the water have an ambiance that can't be matched.
Swimming pools add significant value to your home, making it a great investment for your mind, body, and wallet.
With all these great benefits, it's surprising you don't already own a swimming pool.  Don't put it off any longer, contact Dreamscapes Pools and Spas today!