With the help of swimming pools, outdoor living in Central Florida is the latest trend. Life has gotten busy, between work impeding on the weekend, sport activities with the kids, and the dreadful chores, it seems we have forgotten spending quality time with friends and family, relaxing, and just taking a break from the stress of life.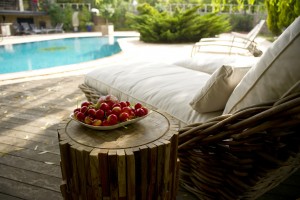 That's what outdoor living is all about. Just imagine, waking up and looking outside at tranquility, your own backyard swimming pool.
Spending family time together, you won't even notice all the exercise you'll be doing. Cooling off on a hot summer day. Getting rid of all the stress in the hot tub. And entertaining friends with a pool party. Making memories to last a lifetime!
Dreamscapes Pools and Spas do more than just build swimming pools, we make dream come true.
Gunite or concrete is the perfect material for swimming pool. Not only does it have many benefits over fiberglass and vinyl, it will last for decades. They can be customized to fit your yard and lifestyle.
At Dreamscapes Pools and Spas we work with you to design an outdoor living space that reflects your own personal style, taste, and budget.
Our professional design team will work with you to carefully design the backyard vision of your dreams. With amazing features and design elements such as, infinity edges, beach entries, custom rock formations, the options are endless, creating a backyard oasis. Our latest 3D software helps create the swimming pool and spa of your dreams at a price you can afford.
What sets Dreamscapes Pools and Spas apart from the rest is our commitment to the highest quality products, construction, skilled craftsmanship and the best warranties, 'Award Winning' design team, over 30 years of combined experience and great prices!
Contact Dreamscapes Pools and Spas for more information on your backyard oasis and a free quote!