Are you ready for a new swimming pool in your Central Florida backyard? With our incredibly hot summer who isn't? There is nothing like enjoying a cool dip in the pool after being cooped up at work or  school all day.  
Waking up and just looking at your luxurious pool, feels like you're on a tropical vacation every day. But there are a few factors to consider, just like any home improvement project. 
You don't even have to leave your house for a great staycation and you don't have to deal with the crowds. 
It's time to transform your backyard to the retreat of your dreams!
Create A Spa Retreat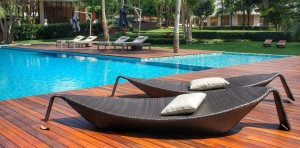 A quite retreat starts with the soothing sounds of a waterfall, large vanishing edge pool, beautiful plants, nice lounge chairs poolside or even on a shelf in the pool, LED multicolored lights, and even some speakers. It is perfect for a relaxing environment, even at night. Enhance that retreat feel with a stone fireplace. 
"A custom-built gazebo with built-in BBQ, sink, refrigerator and a granite-topped bar and seating are the extras that turn the pool area into an oasis," HGTV.
Create The Fun Of A Waterpark
The fun starts with a slide, rock climbing wall, a fun cave, tunnels, boulders, fountains, a lazy river, fire pit, and a splash pad for the little ones. 
A swimming pool is the perfect way to bring the harmony and balance to your life
Now is the time to take the next step, contact Dreamscapes Pools and Spas can help. We use the latest 3D design technology to walk you through the process, you can actually see what your new pool will look like, ensuring all the upgrades and amenities are exactly what you want, saving you a ton of money in construction and maintenance cost. Adding features and enhancements during the construction phase cost a lot less than you may think!