Good news, having an inground swimming pool built does not cost as much as you think. But it is an investment that requires some research to find out how much it will cost. Choosing the design, shape, colors, amenities, and finishes are the fun part. More importantly, is choosing the right company to install your new swimming pool and creating your backyard oasis, while making sure it fits within your budget and lasts a lifetime.
What is the price for health and happiness?
Years of happiness and amazing memories for you and your family is priceless. Everyone enjoying the swimming pool in the security and comfort of your backyard, while enjoying life to its fullest and building relationships. Not only that, it is great for staying healthy and physically active. Not need to go to the gym or use those workout apps, just swim a few laps in the pool and feel refreshed. 
How much will an inground swimming pool cost? There are quite a few factors that go into the cost of a swimming pool, including:
How your backyard and property is laid out?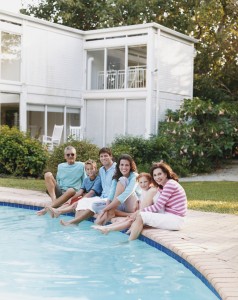 The type of soil, are their rocks or trees that need removing?
Will the electrical wires or sewer line need to be moved ?
What is the water table where you live? 
Also affecting the price is the design and landscape options. 
The size and depth of the swimming pool and type of equipment.
What type of finishes do you want?
Will you have accessories, waterfall, fire pit, sun shelf?
What type of decking or patio will you have around the pool area?
Do you want a salt water pool?
Support and warranties are another thing to think about. When choosing a swimming pool contractor, it is important they have substantial longevity. After all, their customer service guarantee and warranties aren't good if the company is no longer in business.
There are many considerations when it comes to in-ground swimming pool construction. First is the builder. Ensure you are working with a reputable and experienced contractor such as Dreamscapes Pools and Spas. Keep in mind, we are artisans, who bring beauty and added value to the design.
The professional design team at Dreamscapes Pools and Spas has simplified the process with the latest 3D design software. Ensuring your new swimming pool stays within your budget. Whether you are looking for a simple swimming pool that's is easy on the wallet or an exotic backyard resort pool, we have the talent and experience to make your space remarkable at a price you can afford.