You and your family have been dreaming about that backyard swimming pool for years. Now is the perfect time to have it built, but is a pool project right for your home. Before you dive in, here's what you should know. 
What type of swimming pool do you want?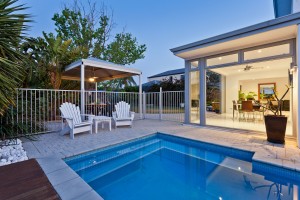 Here in Florida there are three main types of swimming pools. Fiberglass, vinyl-lined, and Gunite or concrete.
If you want a pool that add the most value and elegance to your property, in-ground concrete is the way to go. They may have a slightly higher up front cost, but they are definitely worth it in the end. 
Look for a quality circulation system
Whether you are going to have a saltwater or a chlorine swimming pool, make sure you invest in a quality circulation system. This will go a long way in keeping in sparkling clean. With today's technology, a high efficiency and automated system will save you money down the road. 
Determine your budget
With the interest rates so low, not is the perfect time to build a pool. But having a budget in mind is important. Creating your personal oasis is easier and more affordable than ever with the latest 3D design technology from Dreamscapes Pools and Spas.
We walk you through the process, you can actually see what your new pool will look like, ensuring all the upgrades and amenities are exactly what you want. This alone can save a significant amount of money during the construction phase and in maintenance cost. Keep in mind, the size, shape, style, finishes, and amenities also can add to the budget. 
What pool company should you work with?
You want to work with a reputable pool company. Dreamscapes Pools and Spas is proud to be a leading pool service in Central Florida. Our award winning design consultants work closely with each of our clients to ensure their dream oasis. We listen to you and your family's needs to ensure a perfectly functional and beautiful backyard swimming pool.
Get started on your backyard oasis by contact Dreamscapes Pools and Spas.