The construction of a new swimming pool can be very exciting, but the process can also be stressful. From choosing the right contractor, to the design, finishes, and safety, there are many decisions to be made.
Avoiding these common mistakes when building a swimming pool can save you from having problems down the road.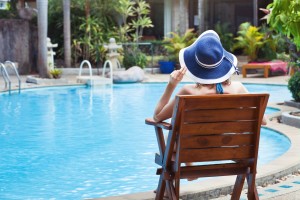 Only thinking about your current situation
Not basing your decisions on the long haul. For instance, will you get a salt water or chlorinated pool. Salt water may have a higher price tag up front, but will cost less over time. Low quality finishes may seem fine now, but will they need to be replaced in a couple of years. Also, think about the resale value of your home.
Choosing a pool design only on aesthetics
During the design process take into consideration who will be using the pool. Will it be used for exercise, entertaining, or spending quality family time together. The design team at Dreamscapes Pools and Spas can help guide you with features that meet your needs.
Compromising on safety
Safety isn't something you want to skimp on. New technology has made it easier than ever to make safety a priority. With non-slick pool deck surfaces, automatic pump shut offs and pool covers.
Not partnering with an experienced swimming pool contractor
There are a lot of fly by night companies in the swimming pool industry, don't get taken. A reputable company will have pictures of their previous work as well as references. Make sure they are properly licensed and insured. Also, make sure you understand everything included in your warranties, there will probably be different manufacturers involved. The Dreamscapes Pool and Spas can help you understand all the components and process.
At Dreamscapes Pools and Spas we take great pride in designing and construction pools at an affordable price, it is what we do best! We service the Orange, Lake, Osceola, Volusia, Brevard, Hillsborough, and Seminole counties. Gunite pools are by far the most popular here in Florida, they can be formed to suite your personal style, they are very durable, have amazing accessories, and add value your home.
Dreamscapes Pools Construction Team is dedicated to making your dream pool a reality. We provide the highest level of communication and attention to detail throughout every phase of your project.
Contact Dreamscapes Pools and Spas for your backyard oasis!