Ready to dive into your new swimming pool? Before taking the plunge, ask yourself a few important questions.
Here in Central Florida a swimming pool is an extension of our homes. Not only is it refreshing on a hot summer day, it is great for relaxing after a hard day at work, a place to exercise, and even entertain. Who wouldn't want their very own private oasis?
What you need to know about building a swimming pool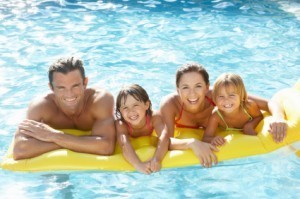 "Not all pools are built alike. There's a pool design, type, shape and style for every budget, personal taste, and lot size. Another consideration: local availability of materials, who will be building or installing the pool, and regional codes and regulations," according to The Spruce.
Consider where the pool will go. Consider the shape and size of your property, as well as the accessibility and logistics. Don't worry, gunite pools are able to accommodate small or oddly shapes lots.
The shape of the pool may depend on how you are incorporating it into your lifestyle. Recreation and relaxation, with a fun and unique shape complete with a waterfall. If it is for therapy and fitness a lap pool may be beneficial. Entertaining and aesthetics, beautiful lighting and a fountain can create quite the ambiance.
All natural, saltwater, or chlorine. The trend for saltwater pools are on the rise, especially for those who are sensitive to chemicals. An all natural pool takes this a step further by using plants to keep the pool clean.
Colors and finishes. There are a plethora of materials on the market today. Whether you want to create the resort feeling, a modern minimalistic look, or a fun, entertaining pool, the colors, the textures and materials all play a big role.
Who will build your new pool?
As a leader in the industry, Dreamscapes Pools and Spas is  proud to offer quality construction at an affordable price. We have built our reputation on experience, quality and unparalleled customer service.
Our service area includes the Florida counties of Brevard, Hillsborough, Lake, Orange, Osceola, Polk, Seminole, and Volusia. Also cities of Chuluota, Clermont, Daytona Beach, Edgewater, Kissimmee, Lakeland, Lake Mary, Montverde, New Smyrna Beach, Orlando, Oviedo, Palm Coast, Sanford, St Cloud, and Tampa.
If you've ever wanted your very own backyard pool, now is the time, contact Dreamscapes Pools and Spas today for more information.