Thinking about remodeling your backyard living area, considering a new in-ground swimming pool or spa? According to a recent survey, you're not alone! Among homeowners in Central Florida, there is an increase in swimming pool installations.
After All, A Backyard Swimming Pool Is The Best Way To Beat The Heat And Relax
There is a growing trend for a backyard oasis, complete with a waterfall, swimming pool, fire pit, caves, slides, and rock garden, everything you need to forget the pressures of life and just enjoy, without ever leaving home!
Transforming your backyard with a luxurious pool is easier than you think. There are many different types of pools on the market today, it may be difficult to decide which one is right for your home. The design and features of the swimming pool should integrate and enhance your home's backyard.
Concrete Swimming Pools Have Many Benefits, While Adding Value To Your Home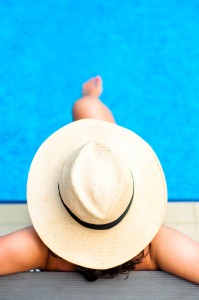 Durability: Concrete is the most durable swimming pool material on the market. They last longer, easier to maintain, and has a higher return on investment.
Hold Up To Central Florida's Harsh Climate: Industry specialists agree, concrete pools are a better material choice for environments with extreme heat and sandy soil conditions, they are also, strong and reliable.
Design and Aesthetic Flexibility: Unlike fiberglass pools, concrete has a lot of design freedom. You can let your personality run wild, from the shape of the pool, color, depth, to the amazing features, waterfall, slide, caves and zero entry.
The Newest Trends: Grottos or Caves with waterfalls, not only do they add visual beauty, they have a holistic relaxing sound of cascading water and an element of whimsical fun for the whole family. Tanning shelves or shallow ledges are very popular, usually 8 to 10 inches deep, providing enough shallow space for children to play or a chaise lounge chair and umbrella.
A Pool and Spa Add Lasting Value to Your Home and Lifestyle
The professional design team at Dreamscapes Pools and Spas work with you to carefully design the backyard vision of your dreams. With amazing features and design elements such as, infinity edges, beach entries, custom rock formations, the options are endless, creating a backyard oasis. Our latest 3D software helps create the swimming pool and spa of your dreams at a price you can afford.
What sets Dreamscapes Pools and Spas apart from the rest is our commitment to the highest quality products, construction, skilled craftsmanship and the best warranties, 'Award Winning' design team, over 30 years of combined experience and great prices!
Contact Dreamscapes Pools and Spas for more information on your backyard oasis and a free quote!