Love spending time in the pool, but never thought you could afford your very own backyard swimming oasis? Pools are great for spending quality time with family and friends, exercise, well needed rest and relaxation. But going to the neighborhood swimming pool isn't as safe as you may think.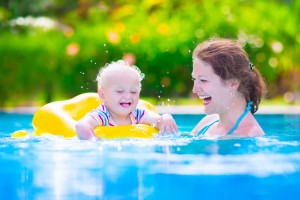 The Centers for Disease Control and Prevention (CDC) recently released a warning about public and community swimming pools, stating the outbreaks of a parasite Cryptosporidium or Crypto for short have doubled in the past couple of years.
"The diarrhea-causing parasite can infect people in pools and water parks, spreading when someone swallows — yup — water contaminated with the feces of a sick person," according to Fox News.
The medical director for Orlando Health Arnold Palmer Hospital Infectious Diseases, Federico Laham, MD, told Fox News, "That's because Crypto is more resistant to chlorine than your average bug: Usually, common concentrations of chlorine in public pools are not enough to kill the parasite."
There a many other diseases and infections floating around public pools, explained Dr. Laham. E. Coli, Hepatitis, swimmer's ear, and lice to name a few. Doesn't sound very fun or relaxing!
The solution, your very own backyard swimming pool. You will know exactly how clean it is and who is swimming in the pool.
Whether you are building your new swimming pool during the construction of your new home or in your existing backyard, Dreamscapes Pools and Spas professional design team will listen to you and create a design, using the latest 3D design software that meets your budget. If you are looking for a simple budget friendly swimming pool or an exotic backyard resort pool, we have the talent and experience to make your space remarkable at a price you can afford.
Our design and construction team has over fifty years combined experience and provides the highest level of communication and attention to detail throughout every phase of your project.
Contact Dreamscapes Pools and Spas for more information and a free quote.