A 5 star tropical resort style swimming pool in your very own Central Florida backyard! Relax like you're on vacation everyday and absorb the sun's rays in your very own paradise.
Staycations are on the rise! Sit back, escape the everyday stress, and enjoy your time without ever leaving your home or costing a fortune.
Creating your own Personal Oasis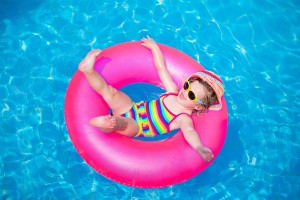 With the addition of just a few water features, waterfall, spa, zero entry, laminar jets, sun shelf, or infinity edge, the resort feeling can easily be achieved.
Instead of worrying about driving, traffic, waiting in lines at the airport or crowds at the amusement parks, customize your very own paradise just outside your back door.
In your own family oasis you won't have to worry about privacy. You won't have to worry about the children or loud guests.
Get Cooking in your Outdoor Kitchen
A deliciously prepared meal outside on the grill will complete the backyard paradise. Whether it's a memorable family get together, a romantic candlelight dinner for two, or a fun festive meal with friends, the memories will be priceless.
Host Your Very Own Pool Party
Enjoy your backyard oasis family and friends. Pool games, hamburgers and hot dogs, fun times, makes a great party!
Well Needed Time for Rest and Relaxation 
Instead of packing everything up a couple of times a year and traveling just to spend a few days at the pool, enjoy it all the time. Imagine coming home from work after a stressful day and stepping outside to a relaxing paradise. Float around as the water washes away all that tension and take a nap by the pool.
Dreamscapes Pools and Spas is proud to be a leading pool service in Central Florida. Our award winning design consultants work closely with each of our clients to ensure their dream oasis is achieved. The construction of our pools and spas are renowned throughout the industry for our exceptional quality, amazing architectural details, and beautiful decor.
Contact Dreamscapes Pools and Spas, we are sure our pool construction and design will exceed your expectations.